Background
UPDATE: See note below about scheduling your posts
Several clients of JSZA also maintain Facebook pages for their business. Facebook is the single largest website on the web in terms of site visitors as of this writing. So, posting content on Facebook on a dedicated business page is a smart thing to do. Many of your customers and prospective customers hang out on Facebook and perhaps follow your posts by "Like" ing your business page.
This also means you can use Facebook to drive visitors to your standalone business website. Customers and prospects may find you on Facebook and then link directly over to your website to learn more. Once on your main website, they are fully immersed in your brand and message and are no longer distracted by the overall Facebook world.
However, I see it done over and over flat out WRONG. By posting to Facebook about your business in the wrong fashion, you have just wasted an excellent opportunity.
Follow along on how to post to Facebook correctly.
What is wrong here?
The basic step missing in the Facebook posts I see is the you are not creating an actual link back to your website (known as a "backlink"). If you have read our article on Website Promotion, you already know that a large factor in determining search engine rankings (also called SEO, Search Engine Optimization) is having direct links (backlinks) to your site. Without links to your site, your site is an irrelevant island of information.
Also, by doing it wrong, you force users to type or copy/paste the address in Facebook to get to your site. Guess what, they will not do that. But click on a link they will.
Steps to posting correctly.
1. NEVER, ever type the URL of your website into Facebook. If you are typing a web address into a Facebook post, then you are on your way to doing it wrong.
2. If you are typing the letters "www" or the letters of your domain name, you are doing it wrong. Yes, this is a repeat of the step above, but it bears repeating.
3. If you post something like "check out my website, then go to Events page for more...." you are doing it wrong.
4. Either create a specific page on your website about the event or content you intend to post to Facebook about, or otherwise decide where in your website you want people to come to.  If you are posting to Facebook about an upcoming event, then you likely have an events page or announcements or some other place buried inside your website where those details are located. Or, it might be a blog post on a recent topic. Or a specific item for sale in your store.  If your Facebook post is about your overall business, then the link might be "to learn more about us and our products" and it would then be OK to have the link be to your website home page.
Most likely, it should NOT be your home page. You should be directing Facebook readers to a specific page or item within your website. Navigate to the specific location using your browser now. Not to your blog home page, not to the store home page, but navigate to the specific item you intend to direct users to.
The address bar in your browser should contain a long address URL at this point, not just your homepage URL.
5. Copy the web address from your browser bar by clicking up at the top of the browser, highlighting the whole address, press CTRL+C to "copy" this URL.
6. Now write your Facebook post on your business Facebook page.  At the end of post (or in the middle of your Facebook post), do a CTRL+V to "paste" the URL into the Facebook post.
By doing it in this manner, Facebook will recognize the pasted information as a website address and convert it into a link. Facebook will actually go out and read the page, drag in the first paragraph of information, grab the title of the page and create an actual link to your website.
If the webpage contained in the post has one or more pictures on it, Facebook will let you choose which picture to use as a thumbnail. There will be a little "Choose a thumbnail" selector with left/right buttons to spin through your options.
Done right, it is actually very cool.  You get a full-fledged posting on Facebook and Facebook does all the really hard work.
---
UPDATE: Posting on a schedule
You can also make it easier on yourself, while also making it appear that your business is more active on Facebook, by scheduling your posts to appear in the future.
Sit down and write a series of posts, like an advertising campaign. Perhaps a series of reminders about an upcoming event. Or a weekly post about a featured client. Or even daily posts of "words of inpiration". Any kind of series of posts to your business' target audience to engage them in your business.
As of Jan 2012, there are some limitations to scheduling posts:
- You can schedule posts in the future only for "pages", like a business page as I discuss below. You cannot schedule posts in the future on your personal wall page.
- The above statement applies only to the future. You can back-date posts in either place. Back-dated posts only specify a date, not a time.
- I am told you can only schedule posts in the future a minumum of 10 minutes from now. Of course, why anyone would want to schedule a post for 5 minutes from now is beyond me.
- All of this could change at any time. Facebook constantly adds, subtracts and modifies features of its site.
Steps to scheduling a Facebook post in the future:
- Go to the Facebook page of your business (or club or group) by clicking its link in the lower left in the "Pages" section of the navigation
- Now, at the top you see a banner right below the Facebook logo that says "You are posting, commenting and liking as...."
  You have to ensure you are posting as the business, not as personal. If its set to your personal name, click the link to switch to your business.
What this does is this.
  If you are posting as a person to a business page, you are creating a "Facebook Post". If you work as the business posting to the business page, it is a "Facebook Status Update"
A Facebook "Status Update" can be scheduled.  You will notice in the little posting box, the upper left corner says "Status", then the area to "Write something..."
If the posting box says "Post", then "Write something..."  you are in the wrong mode. Switch to business mode above.
A "Status" update can be scheduled. When you put your cursor in the writing box, you get a little clock icon. You can click that to set some future date of the status update.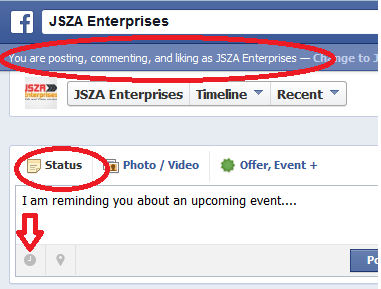 You can then add a year, month, day, hour, minute to schedule the post in the future.  You will also have to set the "Founded Date" of your business before you can schedule posts. Some research shows that posts scheduled to appear around 2:00pm provide the best results. Consider your audience and when they might best receive your posts.
DON'T FORGET THE LINK!  Every business post on Facebook should include a link back to your business website. The entire point here is to drive visitors back to your website where you should have opportunities to "Buy Now", "Register", "Subscribe" or other such actions that put money in your bank account. Or at least add names to your email list.
---
---